How to Buy, Sell & Invest in Property For Automated Income
Saint-Julien-en-Genevois
Haute-Savoie (74)
Tel 2019-01-29
Categoria Événements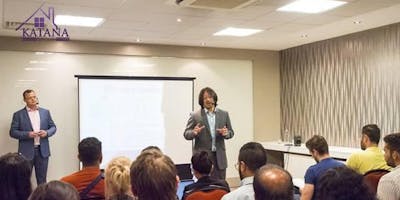 WHAT IS THIS POWERFUL PROPERTY SEMINAR ABOUT?: This is an educational seminar on HOW to successfully Buy, Sell, Rent and Invest in property around the U.K. for automated income every month.  The skills, systems and strategies you will learn at this event will launch you into professional property investment. WHO IS THIS FOR?:  Quite simply, this event is perfect for entrepreneurs, business owners, professionals, presenters, executives, leaders, coaches, consultants, employees... anyone who wants to improve their financial position through property investment can benefit highly from this event.  To Secure Your FREE TICKET, Select your preferred DATE and TIME and REGISTER.  We will be in Switzerland in:Genève - Tue Jan 29, 12:30, Hotel Novotel Genève CentreGenève - Tue Jan 29, 18:30, Hotel Novotel Genève CentreZurich - Wed Jan 30, 12:30, Hotel Novotel Zurich City WestZurich - Wed Jan 30, 18:30, Hotel Novotel Zurich City WestZurich - Sat Feb 2, 10:30, Four Points by Sheraton Sihlcity - ZurichZurich - Sat Feb 2, 14:30, Four Points by Sheraton Sihlcity - ZurichBasel - Sun Feb 3, 10:30, Radisson Blu HotelBasel - Sun Feb 3, 14:30, Radisson Blu Hotel We will be in Germany in:Munich - Thur Jan 31, 12:30 - Four Points by Sheraton Munich CentralMunich - Thur Jan 31, 18:30 - Four Points by Sheraton Munich Central Here is what you are going to LEARN at your Accelerate Your Dealflow FREE training: HOW to source an easy system that yo can use to source of undervalued properties throughout the UK, that you can rent for continual income, or sell for a huge profit...Even while holding a full time job.
HOW to Get Funding: You will be guided on how to raise your capital finances QUICKLY & easily, so that you can buy or invest in multiple properties HOW to Increase The Value of Your Undervalued Property: LOCATION - learn how to identify what factors make a location highly profitable, and what you can do to quickly seize these money-making properties HOW to Systemise The Entire Proces: The "Time-Saving" Groundbreaking funnel, where you'll discover how to view much fewer properties and get more DEALS at the same time PLUS - once you've a handful of deals in your hand (which is a good thing), find out how you can easily juggle multiple deals which will eventually lead to a sale. As a BONUS bring along your business partner or life partner to make that change.
FAQs How long is the Workshop?Workshops are approximately 2 hours long. Can I bring guests?Yes, we invite you to bring guests. Growing a lucrative property portfolio with friends, life partners or colleagues and sharing the experience is rewarding and life-changing. How can I contact the organiser?By replying to the ticket confirmation email or call our events team on +44 203 773 3392 Do I have to purchase anything?No. To help you develop your skills and successfully build your property portfolio, we invite you to look at our exclusive products and services. This is totally optional and you are under no obligation to purchase. What should I bring to the event?Do bring your ipad, tablet or notepad and pen to make your notes. Look at our video below to see how Rob's has Grown his Property Portfolio by working with us.
  Read below to see what others are saying. #PropertyInvestor#Genève#Investinginproperty#Switzerland#PropertyNetworking